How to protect yourself
in public WiFi networks

How to protect yourself in public WiFi networks
Why should you protect yourself in public WiFi networks?
As soon as you log into a public WiFi network with your computer, your entire data traffic can be read by anyone who is also on that WiFi. Bank statements, work documents, Facebook chats, e-mails, passwords, photos - as we all know, hackers and data spies want your personal data. Neither antivirus software nor a firewall can protect you against this. An effective way to prevent such attacks is to use VPN software - a virtual private network.
Steganos VPN Online Shield is such a VPN software for all devices running Windows, macOS, Android and iOS.
Where is the danger from hackers the greatest?
The greatest danger from hackers is in public WiFi and hotspots such as in hotels, airports, train stations or cafes. You don't have to be an IT professional to be able to read your Internet traffic. Even a freely available Android app and a rooted smartphone are enough. The reason is that the transmitted data is exchanged between the selected WiFi router and your computer without encryption. Anyone can intercept, read and record this transmitted data. Security experts worldwide advise to use public hotspots only via a VPN service.
What is VPN and what is it used for?
VPN stands for "Virtual Private Network." Virtual Private Network means simplified: Your Internet connection is established via a server of the VPN service - comparable to a virtual tunnel - to the website you are visiting. The data transmitted from your computer or smartphone to the target server is sent through the established VPN tunnel to the VPN endpoint of the VPN provider. There, the data packets are anonymized and forwarded to the destination server.
VPN software like Steganos VPN Online Shield anonymizes your Internet connection and makes you invisible to hackers.
What is an IP address and how can it be changed?
An IP address is comparable to a digital fingerprint. Basically, every device that connects to the Internet is assigned an IP address. This can be used to uniquely identify the device. In this way, it is clearly traceable which websites you have visited or which files you have downloaded. Without a VPN service, you are not surfing anonymously. You may also not be able to watch YouTube videos, which are not available in your country due to censorship or other reasons.
VPN software such as Steganos VPN Online Shield, which sets up a Virtual Private Network, allows you to change the location of your IP at the touch of a button. Your IP address will be exchanged for an anonymous address. This way, you surf completely invisibly and can use YouTube and other streaming services via the Virtual Private Network with virtually no restrictions.
How to change your IP address:
One of the most useful features of a VPN service is changing the IP address. With Steganos VPN Online Shield, this is child's play. Simply select "Change country" from the software's menu, then activate the desired country and you'll be surfing anonymously and protected from hackers in public WiFi networks.
What is my IP address:
You can use the following service to display your current IP address: https://www.steganos.com/what-is-my-ip
Our recommendation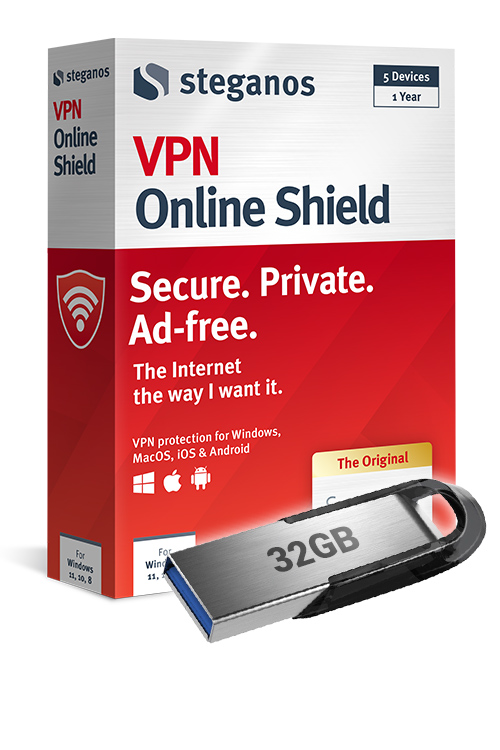 Absolute security and privacy
For all your devices - IT Security made in Germany
Encrypted and private into the net
Use the internet as it should be
Surf anonymously and without limits - disguise your identity and access blocked content
Protected from hackers worldwide - surf securely and anonymously in public WLAN hotspots