Stay on the safe side with Nero TuneItUp PRO
Power PC Tuning
With Nero TuneItUp PRO, you are completely relieved of the time-consuming work of maintaining and optimizing your PC.
With regular updates and enhancements to the software, you'll benefit from an always up-to-date tuning product to keep your computer fresh, fast, and clean with the latest technologies.
Get to know the complete solution for a fast PC.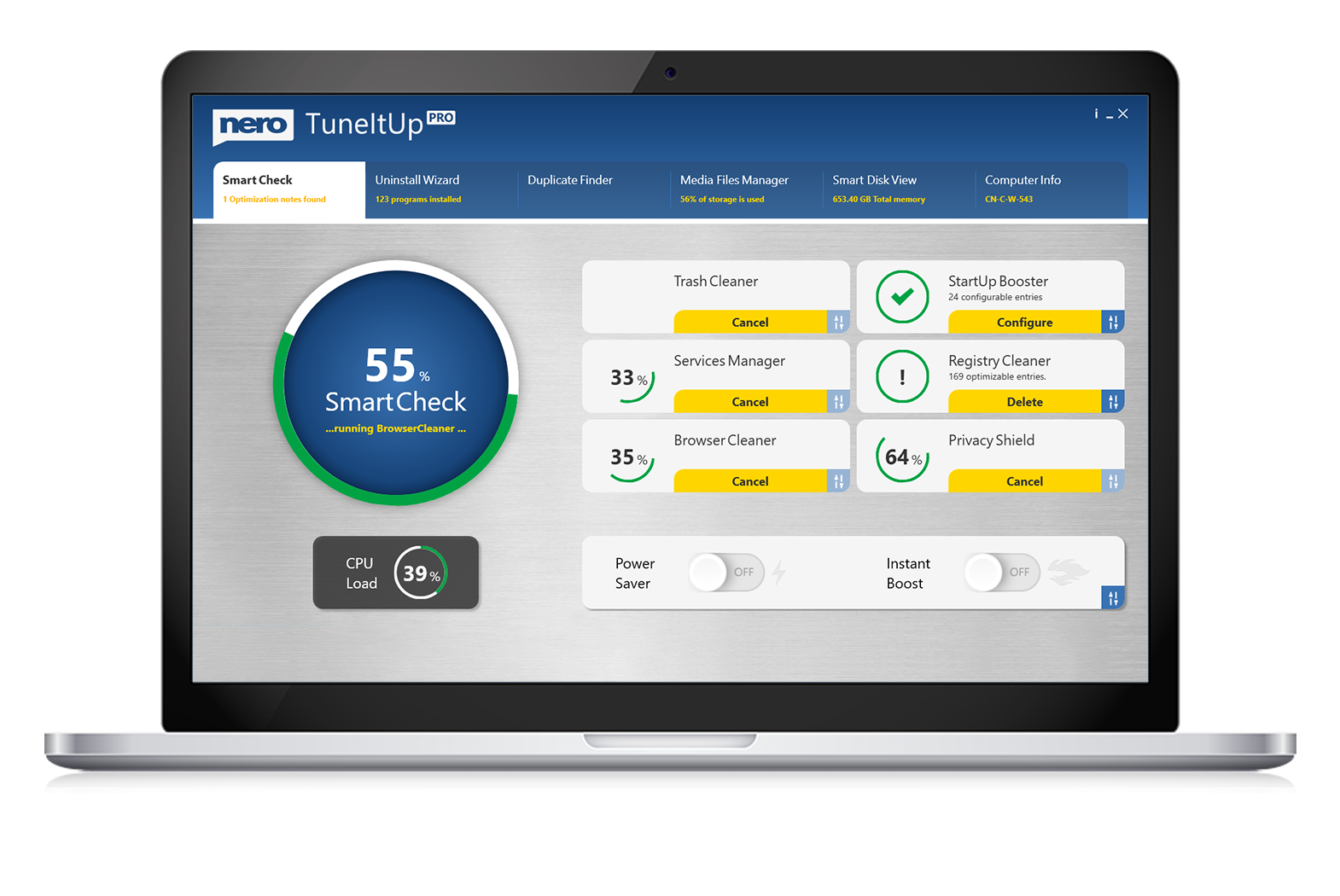 What Nero TuneItUp PRO can do
Nero TuneItUp PRO puts you back in complete control of your PC's performance. You decide whether to solve problems individually, or repair them all at once. The automatic monitoring feature works in the background and will notify you the moment your PC starts running slower again, helping you keep your PC in top shape at all times.
Features
Start Windows faster
Did you know that during system startup programs are automatically preloaded so they can be started faster later on? Most of these processes slow down your system and are not needed on a day-to-day basis. Nero TuneItUp PRO simply switches off these unnecessary processes, meaning that your Windows will start faster than ever before!
Surf the web faster
Regardless of your internet connection, the wrong browser configuration can seriously slow down your surfing experience. Nero TuneItUp PRO analyses your Internet settings and optimises them with one click!
Optimize operating system
At system startup, Windows not only loads unnecessary programs, but also Windows services that are superfluous for your daily PC work. With Nero TuneItUp PRO, you can easily disable these slowdowns. And that's not all. For an even faster Windows, let Nero TuneItUp PRO automatically optimize your Windows settings. Finally, customize Windows to suit your personal needs. With Nero TuneItUp PRO, you can easily customize the most useful Windows settings.
Save energy
Only a properly configured system works stably and reliably. Nero TuneItUp PRO offers the possibility to save energy and protect the environment with just one click - while maintaining the same PC performance! It also extends the battery life of notebooks.