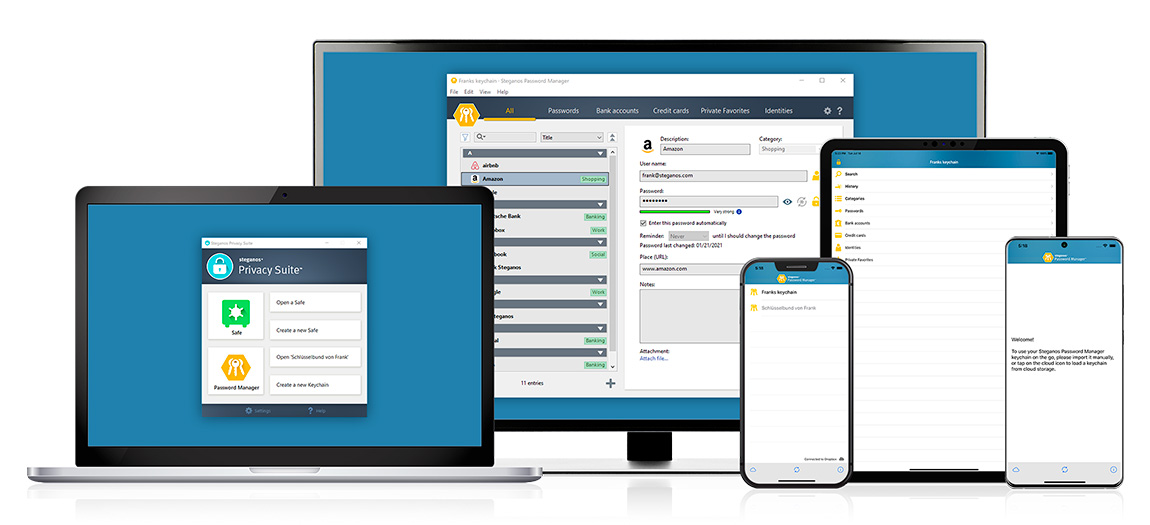 Steganos Privacy Suite
Features

Improved design for the entry details

We're automatically suggesting frequently used usernames now

Option to sort by password strength

Account Assistant helps create a new entry when registering for a new service

New password quality indicator

New Chrome, Firefox & Edge plugins

New "Modern Medium" design

AutoFill in all browsers and your favorite apps with the new iOS & Android Password Manager apps

Improved search & new grouping options

Option to set up an Emergency password for your surviving dependants

New Backup Helper

Steganos Shredder integration

Highly secure encryption: the encryption algorithm safely stores all login data with AES 256-bit encryption

Stores login data, credit cards and much more, and creates secure passwords for everything

Includes free Steganos Password Manager apps for iOS & Android

Automatic keychain synchronization with Dropbox, Microsoft OneDrive, Google Drive, or MagentaCLOUD

Directly access your from your browser with plugins for Google Chrome, Mozilla Firefox & Microsoft Edge

Two-factor authentication for your keychains (supports Authy, Microsoft Authenticator, Google Authenticator and others)

AES-XEX encryption with 384 bits (IEEE P1619) with NI-hardware acceleration for optimal protection against thieves, snoops and intelligence services

Create safes up to 2 TB (2.048 GB) in size

The unlocked safe seamlessly integrates itself in Windows as a disk drive and can be used from within any application

Easily configure safes in your home network

Two-factor authentication for your safes (supports Authy, Microsoft Authenticator, Google Authenticator and others)

Supports data encryption in Dropbox, Microsoft OneDrive, Google Drive and MagentaCLOUD
Digital Safe and Password management
To protect your data and privacy
Steganos® Privacy Suite™ combines the award winning Steganos Security software products Steganos® Safe™ and Steganos® Password Manager™. Users are able to encrypt sensitive data like business reports, TAN lists or holiday photos thanks to a clear and easy menu navigation - on PCs, in networks and in the cloud. Passwords for all online accounts can be created automatically and are easily managed and administrated, regardless of whether it is on a computer, smartphone or tablet.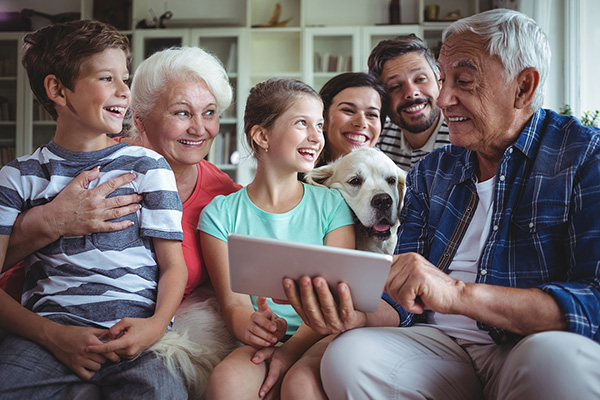 Create and manage strong passwords
Convenient and secure, on PC and Smartphone
Do you leave your front door unlocked? Do you have the same key for your house, your car and your office? Would you trust a complete stranger with your keys? Of course not!
Passwords are the keys to your digital life and the variety and quality of your personal passwords is crucial for online security.
Trying to think up more and more passwords for your growing number of online accounts – and trying to remember them all – is virtually impossible.
Steganos® Password Manager™ provides a comfortable solution: it generates extremely strong passwords, automatically inserts them on websites, and remembers them so you don't have to. You only have to remember one password!
Safely encrypt sensitive data
On PCs, in networks and in the Cloud
Confidential documents, business records and TAN lists all belong in a safe place. Steganos® Safe™ is a digital vault that protects everything you don't want anyone else to see. The clearly structured user interface ensures that this highly professional security software package is intuitive and very easy to use. Data protection made in Germany – with the click of a button, Steganos® Safe™ protects all types of sensitive data on your PC, in networks or in the cloud thanks to state-of-the-art 384-bit AES-XEX encryption with AES-NI Hardware acceleration.